Getting Started with Local Business Plans
 If you're starting your own local business venture, this page is for you. It contains everything you need to get started quickly.
Local Business: Defined
A business that provides a product or service directly to its local market. The business owner lives locally, spends locally, and has an interest in fixing the problems in the local community.
Local Business Plans
These business plans will help you go from zero to hero in the shortest path possible. We develop these guides by finding the entrepreneur that has the most successful model in any given field. From there, we work together for months to dissect every aspect of their business and create a step-by-step formula to teach you to start your own business. By learning from their mistakes you can follow their success and diminish the chance of failing.
The most important aspect of these business plans is that we start by doing the Market Research so that you can determine if this business model will be successful in your community.
We're just getting up and running, so have patience while we build out our selection of business plans. The first we have available is the business that I have intimate experience with. The Microgreens business. The business plan coming this spring is "Profitable Urban Farming" w/ Curtis Stone. It will be our first Video course business plan to take you through the A to Z of starting your own urban farm. We've been working on it this entire year and are very excited to get into your hands.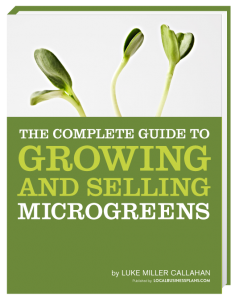 The Complete Guide to Growing and Selling Microgreens
Profitable Urban Farming  – How to earn $75k on 1/3 of an acre
Check Out the Other Business Models:
Below you will find links to profiles of other local business models. Our intention is to highlight the different small business opportunities that could be a fit for you in your market.  Make sure to keep checking back because this is a work in progress, and frankly, there is a lot of work to be done.
If you have specific requests for a business model feature, email me directly at: luke @ localbusinessplans.com. I'd love to hear from you.
To Join the Community and receive updates when we feature new business models and release new business plans, sign up below:
You can always reach me at: luke @ localbusinessplans.com
Welcome to the Local Business Plans community!
-Luke Callahan